The representative body of the Faculty of Business Administration and Management is a faculty council that unifies faculty academic personnel and students.
The faculty shall conduct its activities in accordance with the faculty regulation.
Since its establishment in 1992 at Tbilisi Humanitarian Teaching University faculty of Economics, Business and Management has been functioning under different titles, dean of faculty is Mrs. Professor Nona Gelitashvili.
Faculty of Economics, Business and Management is conducting Georgian and Russian Bachelor Programs in Business Administration.
Coming from the mission of the Tbilisi Humanitarian Teaching University and the faculty of Economics, Business and Management as well as strategic plan - mission of above mentioned Bachelor Program is to develop trained specialists, who will be able to successfully undergo business processes and trace the activities of effective management, in which received education and practical aspects of it as well as necessary acquired skills will assist. Also, the program offered by the university provides opportunity to enter the internal labor market of Georgia with the adequate qualifications that employers' are looking for.
Students holding Bachelor's degree in Business Administration can take up entree positions in field of management, including company administration, operational management, logistics, marketing and sales, staff management, finance, accounting, management information systems and other functional business areas. Incomplete list of positions is as follows: Purchasing manager, Sales manager, Advertising manager, Operations manager, Project manager, Credit manager, Personnel manager, Logistics manager, Auditor, Financial manager, Commercial director and others.
In the framework of faculty of Economics, Business and Management, Bachelor Program in Tourism has been prepared - which underwent accreditation at National Center for Educational Quality Enhancement. Above mentioned program aims to prepare a highly adaptable specialist with a variable professional environment in field of tourism, it aims to prepare professionals which will have a wide range of knowledge and specific field skills in tourism; Knowledge of sectoral structure and functioning mechanisms will be understood in the main economic, social and political functions of tourism firms and tourism in general; The aim of the program is to prepare a specialist who will be able to understand the processes in the field of tourism, have critical understanding and have a wide range of knowledge in the theoretical and practical aspects of tourism and knowledge and skills required for professional career.
The educational process at the faculty is coordinated by:
Irma Tsiklauri
E-mail: itsiklauri@thu.edu.ge
Tel: (+995) 599 384 540
Dean of Faculty
Nona Gelitashvili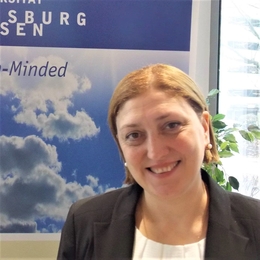 Nona Gelitashvili - Doctor of Economics, Professor in the field of Economics. In 2011 obtained Doctorate degree from the Faculty of Economics and Business at Tbilisi State University. She served as a lecturer at Tbilisi State and Ilia State Universities and took up the position of Associate Professor at International Black Sea University. Mrs Gelitashvili underwent qualification enhancement at different periods of time at various universities in Germany, namely in Bremen, Saarland, Berlin and other European universities within the framework of DAAD scholarship as well as the Erasmus+ Mobility program. She has published more than twenty scientific articles, is the author of one monograph and co-author of two books.