Since its establishment in 1992 at Tbilisi Humanitarian Teaching University faculty of law has been successfully functioning, since 2019 dean of the faculty is Professor Lia Chiglashvili.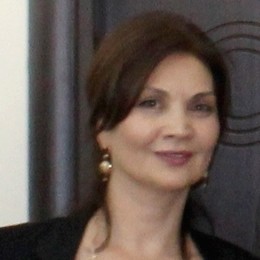 Lia Chighlashvili - Doctor of Law. Since 2006 she has been conducting scientific-pedagogical activities in private higher education institutions in private law. In 2003-2019 she worked on the leading positions in the Administration of the President of Georgia. In 1999-2004 she worked at the Supreme Court of Georgia and Tbilisi District Court. He has published about 20 scientific articles in the direction of "Family and Hereditary Law". She is a recipient of bachelor's and master's programs and a scientific supervisor. Has participated in many international scientific conferences and forums. As invited guest, periodically participates in different TV programs in terms of the subject of the judicial issues. She led the professional union of public servants of Georgia. She led the training of trainers training under the auspices of International Labor Solidarity Center (USA). She has received honorary diplomas and international certificates. Awarded with the Order of Honor.
Representative body of the faculty of law is faculty council, which unifies faculty's academic personnel and students.
The faculty conducts its activities in accordance to the provisions of the faculty regulation.
The Faculty of Law carries out Bachelor's degree program. The purpose of the Bachelor's degree program is to provide a thorough knowledge of the basic material and procedural norms of the Georgian national law system as well as general principles and values; Program graduates will have relevant knowledge in law (Law theory and methods, philosophy and history), Public law, Private law, Criminal law and International law.
The student is given the opportunity within the framework of the Bachelor's program to give concentration on special module and/or discipline; For example, focus on Private law with administrative law elements and etc. The Bachelor's degree provides students with skills that will help them to identify, assess a problem and apply relevant legislation; Develop analytical thinking and justification skills, introduce to foreign legal practice; Bachelor's degree program provides students with knowledge and understanding of legal issues and the practical application of acquired such; Student will acquire the necessary skills and methods for the implementation of the legal activities, develop skills of solving legal problems, as well as the ability to communicate and teach, to follow the legislative amendments, judicial practice and scientific innovations and continuously update the his/her knowledge. In order to achieve these objectives and the learning outcomes of the Bachelor's degree program - in development of the program are are involved following parties: Academic personnel, some of which are also practitioner lawyers, students and alumni. Professors: Kakhi Qurashvili, Archil Loria, Lela Nadibaidze, Tamar Chitoshvili, Eka Zarnadze, Maka Salkhinashvili; Associate Professors: Manana Khvedelidze, Davit Gepheridze, Beka Kantaria, Avtandil Khazalia, Doctor of Laws - Maia Kopaleishvili (Member of the Constitutional Court), Lali Papiashvili(Constitutional Court Member), Maia Ivanidze, Shalva Qurdadze (lawyer), Nino Barabadze (notary), Tamar Laliashvili, Asmat Gugava and others.
The graduates of the program will have the opportunity to work in any position where having a Master's degree in law is not mandatory. In addition, additional prerequisites (passing the state certification exam) may be taken into account for a certain position.
Bachelor's program graduate is entitled to pursue Master's degree studies in Law, which focuses on deepening the knowledge in the field or subfield of law.
Students of law faculty are actively involved in university life: student self-government, other university management bodies.
Mrs. Eter Iremadze coordinates the educational process at the faculty of law

E-mail: eiremadze@thu.edu.ge
Results of anonymous survey of students of law faculty - 2017